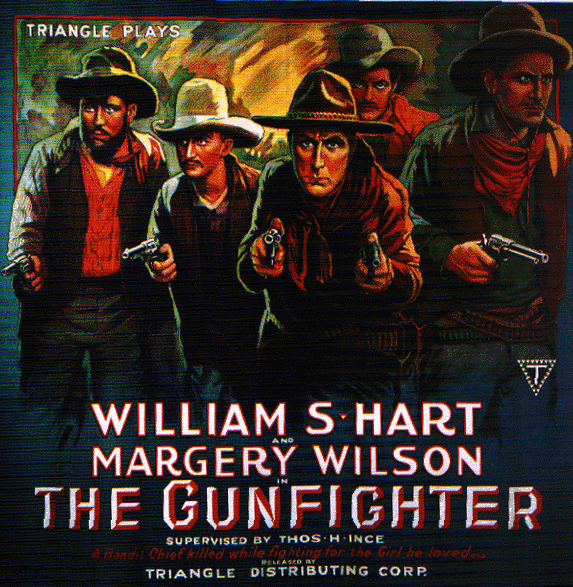 William S. Hart and Fritz: "The Greatest All-Round Horse that Ever Lived"

Granite-jawed and steely-eyed,
William S. Hart
is considered one of the greatest of all Western stars and his Pinto pony,
Fritz
, the movies' First Famous Animal Star.  Born in Newburgh, New York on Dec. 6, 1870, Hart spent much of his youth traveling about the West resulting in his stark realism and accuracy in his films.  As a lad he even learned to speak Sioux.  Though the Hart westerns are noted for being
raw and gutsy
, he often depicted the close comradeship between a cowboy and his horse.  Clearly evident in many of his films, poems and autobiographies was his affection for his four-legged co-star, Fritz.
Hart started making films in 1914 at the mature age of 49 and continued for 11 years, completing 65 silent movies.  That same year, he discovered a red & white pinto owned by his friend and producer,
Thomas H. Ince
(Nov. 6, 1882 - Nov. 19, 1924) and claimed that Fritz was the only horse that
"could do and did do anything and everything."
  The famous pinto, which Hart later purchased, did a variety of dangerous stunts such as jumping through windows and over fire but one of Hart's favorite tricks was the run and throw, which he staged in most all his pictures.
Their devotion was such that Fritz didn't like being left alone for any period of time without Bill.  He showed his displeasure to the star by forcing Bill to "kiss and makeup," but not before he would try and buck him off.  The only other creature that could calm Fritz when he was feeling ornery was a mule mare named Cactus Kate.  Sometimes the only thing Bill could do was fetch Kate and bring her along Fritz's side during production.

Bill Hart and Tom Ince were insearable and invincible as a production team.  At their peak together in 1915, Hart would release 18 films in that year.  However, both were headstrong individuals and after their move to the Lasky Studio (Paramount), the old friends began to quarrel during their first picture for the studio,
The Narrow Trail
(1917).  According to Hart's autobiography,
My LIfe - East and West
(1929),
"For some unaccountable reason Tom, who could always see anything that had a money value, could not see Fritz.  He just did not like the horse and I was never able to find out why.  The Narrow Trail was conceived and written in my love for Fritz, and when Tom wanted me to use another horse, I began to doubt either his or my own sanity.  The horse made the picture a great success..."
  Hart explains further in his book,
"...the little pinto never earned another dollar that Tom shared in.  That is why the little fellow was idle for 15 pictures." 
Hart even took big trade-paper advertisements to announce Fritz's "retirement" - and later, after leaving Ince, he would advertise his "comeback." 
Brownie
, a sturdy, sweet-tempered gelding became Hart's horse of choice during Fritz's hiatus appearing in all the film including
Wagon Tracks
(Artcraft, 1919).  By 1920, their mutual bitterness culminated in a lawsuit and after settlement, Fritz went back to work.
For the filming of Singer Jim McKee (Famous Players-Lasky, 1924), Hart was to gallop off the edge of a cliff and tumble down the gorge about 150 feet below.  Fortunately for Fritz, Hart decided the stunt was too dangerous and rigged a dummy painted to resemble his mount.  So realistic was the scene, that people wrote in protest for such treatment of a horse, which prompted Hart to travel to New York with Fritz for an American Humane Association fund raiser and exhibited a short film on how the stunt was conducted to avoid censorship and prove the health of his famed companion.

Fritz retired in 1924 after filming
Singer Jim McKee
and therefore did not appear in
Tumbleweeds
(United Artists, 1925), Hart's last and one of his finest films.  Fritz lived the rest of his life on Hart's
Horseshoe Ranch
in Newhall, Calfornia where he died at the age of thirty-one.  His grave on Hart's ranch, now a 265 acre state historical park and museum, is marked with a large cobblestone
monument undereath a large oak
tree.
In 1939, when silents were all but a faded memory, Bill Hart re-released his classic
Tumbleweeds
(Astor Picture Corporation) adding music, sound effects and a talking prologue where he recites, with an extra special poignancy, a moving tribute to his
beloved Fritz
who had died only a year earlier. 
"My friends, I loved the art of making motion pictures.  It is the breath of life to me...The rush of wind that cuts your face...the pounding hooves of the pursuing posse.  Out there in front, a fallen tree trunk that snaps a yawning chasm, with a noble animal under you that takes it in the same low, ground-eating gallop...and then, the clouds of dust through which comes the faint voice of the director - 'Okay, Bill, okay.  Glad you made it!  Great stuff Bill !  Great stuff!  And say, Bill, give ol' Fritz a pat on the nose for me, will you?'  Oh, the thrill of it all!  You do give ol' Fritz a pat on the nose and when your arm encirlces his neck the cloud of dust is no longer a cloud of dust, but a beautiful golden haze, through which apppears a long phantom herd of trailing cattle - at their head, a pinto pony.  A pinto pony with an empty saddle and then a low, loved whinny, the whinny of a horse so fine - that nothing seems to live between it and silence...Adios, amigos...God bless you all, each and everyone."
Hart lived at his cherished ranch until his death on June 23, 1946 and is
buried
in the family plot in Brooklyn, NY nearly a continent away from his faithful and loyal comrade.
Credits include:

Hell's Hinges (Triangle-KayBee, 1916), The Narrow Trail (1917), Blue Blazes Rawden (1918), The Toll Gate (Paramount-Artcraft, 1920), Sand (Artcraft, 1920), Three Word Brand (Paramount, 1921), Pinto Ben (1924)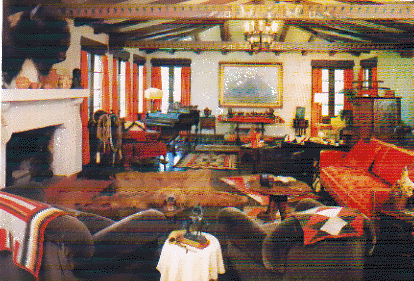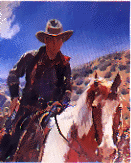 Wm.S.Hart as Wild Bill Hickok (Paramount, 1923)

The above is an excerpt from a book currently being written by Jim Moore entitled Hollywood Hoofbeats on the amazing equine stars of the cinema.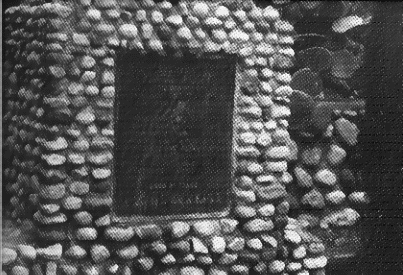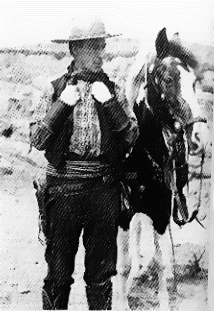 Bronze plaque engraving:

"Bill Hart's Pinto Pony Fritz

Aged 31 Years

A Loyal Comrade"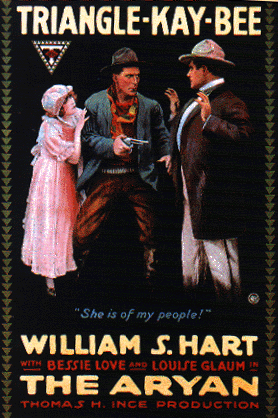 Note: When clicking on links in text, use the "back" button on your browzer to return to this page.

William S. Hart, Jr., Only Child of Famed Silent Film Cowboy Dies At Age 81

May 13, 2004

William S. Hart, Jr., the only child of the legendary silent film cowboy died on May 13, 2004 in Seattle near is home in Bainbridge Island where he had lived since his retirement in 1989.

A graduate of UCLA and later where he also earned his master's degree in environmental planning, Hart, Jr., was a Santa Monica real estate appraiser.  In addition to his real estate and development business, he taught appraisal, business and finance classes for 40 years at UCLA, USC and Santa Monica College.  During World War II, he worked in Washington, D.C. as a cryptographer for the Office of Strategic Services, forerunner of the CIA.

While he was the actor's only son, the two were never really close.  The elder Hart, at 58, met Winifred Westover during the filming of the silent western film, "John Petticoats" in 1921 and married the 21 year old actress.  Five months later they seperated and formally divorced in 1927.

By 1946 as the famed actor's health began to deteriorate, Hart, Jr., by then in his mid-20's, unsuccessfully filed to seek sole guardianship of his father and his estate including the cowboy's Horseshoe Ranch that is now a Los Angeles County park in the Santa Clarita Valley (see above).

Hart Sr. died on June 23, 1946 leaving relatively small bequests to individuals and charities, including $50,000 each to his surviving sister and an animal humane organization that later became the American Humane Association, which today is charged with the protection of all animals used in film and television productions.

.

The younger Hart continued lengthy litigation over several years but was unable to convince a jury or appellate courts that his father had been unduly influenced by others to exclude him from the will.  The old cowboy had however, established a $100,000 trust fund for the boy before he was born and had clearly stated, "I have made no provision in this will for my son for the reason that I have amply provided for him during my lifetime."

Although unsuccessful in acquiring his father's ranch, he maintained a lifelong interest in its management as a public park, the William S. Hart County Park and Musem.  He also spoke out to preserve another property his father had given to the public, his mansion on De Longpre Avenue in West Hollywood.

At the time of Hart Jr.'s death, he was survived by his wife, Rosalind; three daughters, Vanessa, Karina and Christina; and two grand-children.

Source: LA Times; "My Life -East and West."