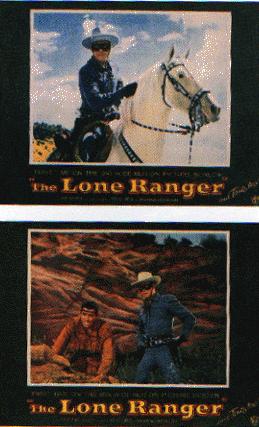 A Remembrance by Western Movie Historian, Artist and one of the founders of the Golden Boot Awards, Rob Word
Things got tough for Clayton Moore when the Wrather Corporation told him to turn in the Mask of the Lone Ranger.  He had been making public appearances and wearing it for thirty years!  It was 1979, the year I moved from Florida to California.

Like everyone of my generation, I too had grown up learning right from wrong by watching, somethimes over and over again, my cowboy heroes on TV.  And when I moved here, I guess the main reason was to be closer to those men who had meant so much to me growing up.  I had a production background, got lucky and ended up working with Jocko Mahoney and some other western buffs rounding up former TV cowboy stars for the Brad Marks Production, "When the West Was Fun" for ABC.

We got everybody!  Suddenly, I'm hanging with Pat Buttram, Lee Van Cleef, Chuck Connors and Johnny Crawford, John Russell and Peter Brown, Milburn Stone and Ken Curtis and on..and on.  But, the biggest thrill was seeing Clayton Moore.  He was resplendent in his white Stetson, fitted blue outfit and a silver bullet filled black double rig carrying his matching Colt .45's.  Gee, I thought I'd died and gone to cowboy heaven!

There is always that fear of celebrities being so disappointing in person that they spoil an image we viewers have created.  Well, I don't have to tell anyone that Clayton was anything but a disappointment!  He was friendly, cordial, and exciting to be near.  He was the same good guy who saved the day and disappeared at the end of each episode.  And what a voice!  Unmistakable..

He had worn it for years.  Ever since taking the role and bringing radio's famous character to television in 1949.  The mask had become part of him and he had become part of it.  One was the other.  As the Lone Ranger, Clayton had embodied all that was honest and brave.  He had been, and still was, a hero to several generations.  His noble deeds had made him an international icon.

So, when it was time for him to give up the mask, he didn't consider changeing his way of life.  Not for a moment.  He couldn't do that.  He said that the mask had given him meaning to everything.  And, he had given everything to live up to the meaning of the mask.  Both on screen and off, he was a true American hero.  After a five year court battle and support from thousands of fans, Clayton won and was finally allowed to wear the mask again.  He claimed that protraying the masked hero had made him a better person.  He sure helped insure that his legions of fans understood the principals of right and wrong.

I was lucky again.  I got to know Clay, spending time with him both preparing for the Golden Boot each year and on other occasions.  He liked playing the good guy and he left all of us, family, friends and fans alike, with unforgettable memories.  His favorite song was Willie Nelson's "My Friends Have Always Been Cowboys" and we played it at his Memorial Service in January, 2000.

"I always wanted to be a policeman or a cowboy, and I get to do both," he wrote in his highly prized autobiography, "I Was That Masked Man."

He gave us the best of both worlds--past and present.  For him, let's make a better future.

The Lone Ranger's Creed said, "All things change but the truth, and that truth alone lives on forever."

So to you, Kemo Sabe.  So to you!  Hi-yo, Clayton! Awaay!

"RETURN WITH US NOW TO THOSE THRILLING DAYS OF YESTERYEAR...  THE LONE RANGER RIDES AGAIN!"

    In 1939, Republic Pictures filmed a fifteen-chapter serial entitled, The Lone Ranger based on the popular George Trendle radio program (1933-54) of the same name.  While various actors have portrayed the Masked Man atop "A fiery horse with the speed of light," it is Clayton Moore's portrayal beginning in 1949 however, that is most etched in the minds of legions of fans.  Along with his "faithful Indian companion" Tonto, played by Jay Silverheels, riding an Indian Paint named Scout, millions would be mesmerized to the screens.  To the thundering strains of Rossini's William Tell Overture, in "...a cloud of dust" and a hearty, " Hi-Yo Silver... Away! ", the masked avenger astride his rearing white mount, Silver, silhouetted against picturesque Western rock formations, would ride off with Tonto at his side to avenge wrongs throughout the Old West.

Other Famed "SILVER"- screen Horses

  Horses ridden by Buck Jones, Sunset Carson Fred Thomson and Hoot Gibson were all named Silver.  However, it was Buck Jones' Silver that is considered by some to be the top action horse of all the "B" Western movie stars and was, by all accounts, a very intelligent horse.  The images of Buck and Silver in a Monogram Pictures release presented one of the more satisfying outdoor portraits of the day!  This famed horse even outlived his "co-star," dying in 1940 at the age of twenty-six years.

  To learn more about these stars and their famed Hollywood mounts, return to the home page.

   The "fiery horse" Silver, whose real name was Traveler, shared the screen with Clayton Moore in 168 episodes.  The famed mount died in 1966 at the age of twenty-seven.

The Lone Ranger Creed

        By Fran Striker

"I believe....

That to have a friend, a man must be one.

That all men are created equal and that everyone has within himself the power to make this a better world.

That God put the firewood there but that every man must gather and light it himself.

In being prepared physically, mentally, and morally to fight when necessary for that which is right.

That a man should make the most of what equipment he has.

That ' This government, of the people, by the people and for the people ' shall live always.

That men should live by the rule of what is best for the greatest number.

That sooner or later...somewhere...somehow...we must settle with the world and make payment for what we have taken.

That all things change but truth, and that truth alone, lives on forever. 

           In my Creator, my country, my fellow man."

    As revealed in Moore's initial TV-episode, broadcast on September 15, 1949, the Lone Ranger got his name by being the lone survivor of a posse of six Texas Rangers tracking a gang of killers.

   Found close to death near a waterhole by an Indian, the surviving Ranger, named John Reid was nursed back to health by Tonto, a mixed-

blood Mohawk who had been befriended by the white-man years earlier.

    After burying his comrades, "Kemo Sabe," a name given him by his new friend meaning "trusty scout," he donned a mask and together he sought to avenge their deaths and right wrongs whenever.and wherever they might be.

I continuously work on this site, adding more info. etc., so check back often!

    The Masked Man never accepted payment for his good deeds.  He and his brother, one of the murdered Rangers, owned a silver mine and he would return periodically to collect the proceeds and stock up on silver bullets.

###

  Moore was a circus acrobat and model before appearing in his first film, "When Were You Born," in 1938.

  Jay Silverheels also starred with Moore in the 1954 Columbia release, "The Black Dakotas" with Gary Merrill, Noah Beery, Jr., John Bromfield and Wanda Hendrix.


Because of my association with Pat Buttram and a few other of my "Sage Brush Heros," we got together for a tribute at the Masquer's Club to "Battling" Bob Steel.  That success lead us to our first Golden Boot Awards created in 1983 to honor Wesern heroes.  Among our honorees that first year was, of course, Clayton Moore who still was NOT allowed to wear the mask!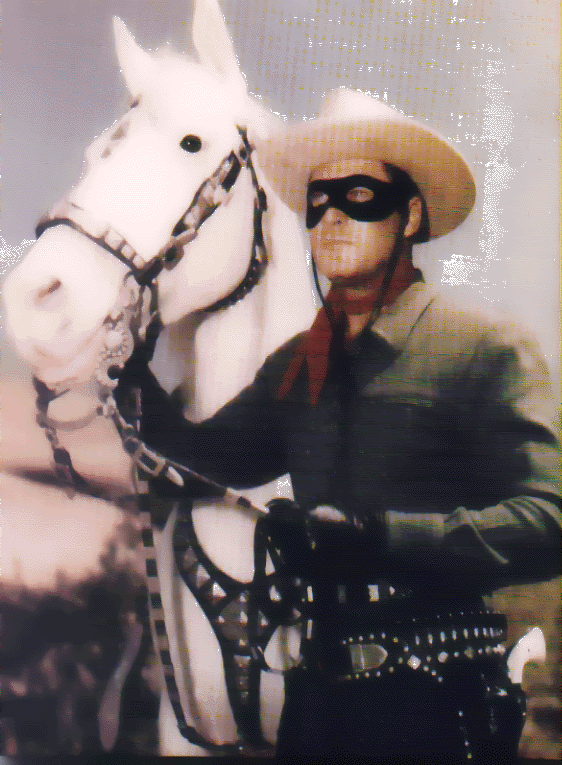 Clayton Moore

"The Lone Ranger"

This page was last updated on: March 3, 2006