Tom Mix

with Tony, The Wonder Horse

Like
William S. Hart
,
Tom Mix
,
"America's Champion Cowboy,"
glamorized the relationship between the cowboy and his trusted horse.  The former western marshal (Dewey, OK) and rodeo star was
brash and showy
, having developed his cowboy skills as a member of the
Miller Brothers 101 Ranch Show.
  His pictures developed a reputation for being fast-paced, well-produced and he abounded his movies with spectacular
action
allowing
Tony
many opportunities to demonstrate his equine abilities in over 50 films.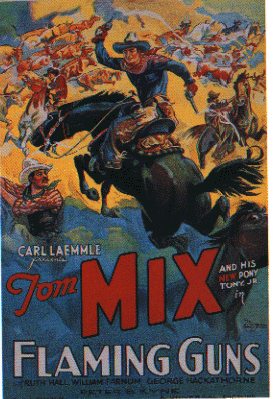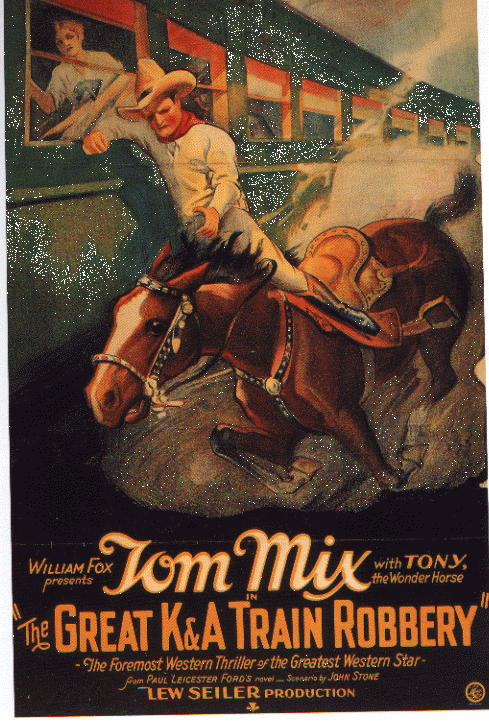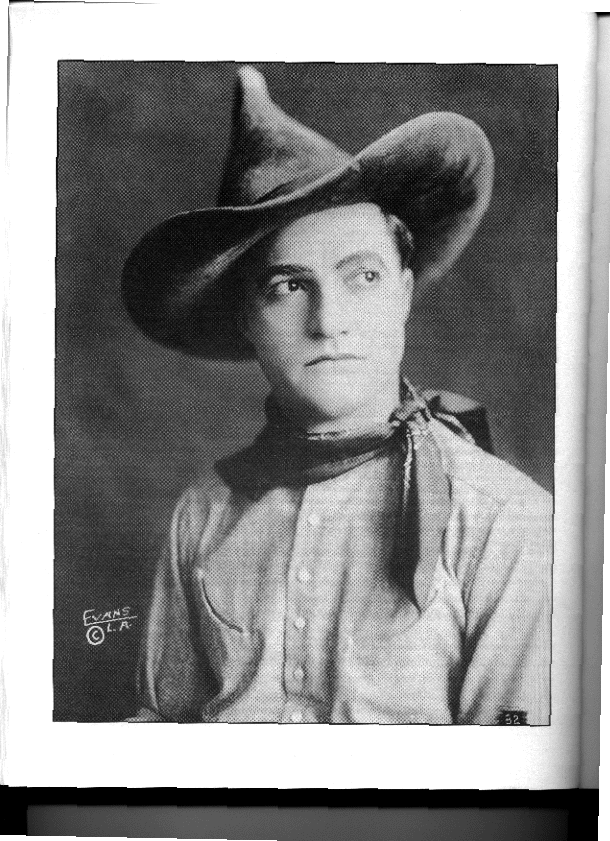 Making his appearance in movies four years before Hart as a member of the
Will Dickey Wild West Show
(
The Trimming of Paradise Gulch
, 1910), Tom rode several different horses in his early movies including
Ol'.45
.  But
Old Blue
was his favorite before the horse took a tumble in his corral and broke a leg.  Reluctantly, Tom put the twenty-one year old Blue to sleep on Jan. 29, 1919, then buried him beneath a wooden marker at his studio, Mixville in Glendale, CA.  For years he laid a wreath on Old Blue's grave every Decoration Day. 
Tom's concern for his animals was well documented.  When negotiating a deal in 1916 with studio head, William Fox, the mogul remembered, "When the subject of salary was broached, he said that the thing he was interested in most was the provision for the care and feeding of his horses."  Before moving to Fox in 1917, Mix had already made 170 pictures and although he had ridden Tony for the Selig company's,
The Heart of Texas Ryan
(1917) and
Fame and Fortune
(Fox, 1918), it wasn't until after the death of Old Blue that Tom took Tony as his
full-time movie moun
t
.  In response to Hart and Fritz's soaring popularity, the studio began promoting their star's on screen appearances together.
Purchased from a Los Angeles street vendor as a colt in 1914 for $14 by horse trainer,
Pat Chrisman
, Mix would later buy the future "Wonder Horse" from  him in 1917 for $600.  Tony's first movie as Mix's leading steed was
Cupid's Round Up
for Fox in 1918.  Ultimately the horse became one of the most reknowned and well-traveled ever, visiting every state as well as many other countries.
Tony's popularity
would rival that of Fritz's, receiving fan mail from around the world and even becoming a guest at the White House.  Publicity materials of the time would show Tony getting a manicure and permanent wave in his mane in preparation for his appearance at the Paramount Theater in New York City, or shown having his hoofprints imprinted in cement in front of the famous Grauman's Chinese Theater in Hollywood.
Mix taught his co-star about twenty tricks and
stunts
, and parts would often require the steed to dash off for help when his master was in danger, untie Tom's hands or fight any man or beast that threatened his human companion.  However, like his owner, Tony was quite temperamental.  According to George Marshall, who directed several Mix pictures, Chrisman would work with Tony on some tricks and he would perform them beautifully during rehearsal, but when it came time to shoot, the great horse wouldn't have any part of it.  Come back the next day and he would do the scene without so much as a run-through.  He just didn't feel like working that day.  Tom was known to sometimes hire a band to play popular, upbeat tunes on the set and claimed it was "for Tony's enjoyment."
'Duke,' Tom's Great Dane, also teamed with them in 17 films including Teeth (Fox, 1924).  "There is a great rivalry between Tony, and Duke," Mix commented about his two "best friends" after completion of the film.  "Each feels himself the star of Teeth.  I myself, according to their point of view, am only one of the cast.  Tony, of course, claims precedence because he has already starred in his own story - Just Tony.  He feels that Duke is nothing but a beginner."

Like most stars, Tony had several doubles and they were painted up to resemble his distinctive markings.  One horse was used for jumps, another for more
dangerous stunts
and
Black Bess
was often used for long shots because she was bigger, but Tony was always on hand for the closer angles because he was more compact and looked good with Tom.
For Tom's fifty-second birthday on January 6, 1932 and while recuperating from a ruputured appendix, Universal sent a photographer to shoot publicity stills of the matinee idol being visited by his famous horse at his home in Beverly Hills in preparation for his upcoming production for the studio,
Destry Rides Again
(1932).  During
Rustler's Roundup
(Universal, 1933), their last picture together, though Tony would still recieve billing in other productions, the aging horse stumbled while leaping across a narrow stream and tumbled down an embankment, luckily only slightly injuring them both.  Deciding it was time he be put to pasture, Mix replaced his companion in future films with
Tony, Jr.
,
beginning with
Flaming Guns
, (Universal, 1933).
It wasn't until astute Tony fans noticed a change in mounts that the studio acknowledged the difference and contrary to press releases, the horse was not the real son of Tony.  The
original Tony
had white stocking on his back legs while Tony, Jr.'s four legs were stockinged and had a
wide white blase
that extended to his lip.  For the next two years, Tom only made a few pictures as he and Tony, Jr. or
Tony II
(originally named
Warrior
) appeared more frequently in shows and circuses touring throughout the world.
The original old sorrel outlived his master by exactly two years to the day.  Mix, trying to avoid roadwork on the highway to Florence, Arizona, failed to negotiate a curve and plunged his 1937 Cord into a gully and was killed in 1940.  A stone monument topped with a black iron silhouette of a riderless and grieving Tony marks
the site today
.  Tom Mix lies at rest at
Forest Lawn Cemetery
in Glendale, CA.
On October 12, 1942, with the great horse's health failing badly, a veterinarian chloroformed Tony in order that he could die without pain and more suffering.  Thus, he died at the age of thirty-two in the Old Mix Estate stall which he had occupied for so many faithful years.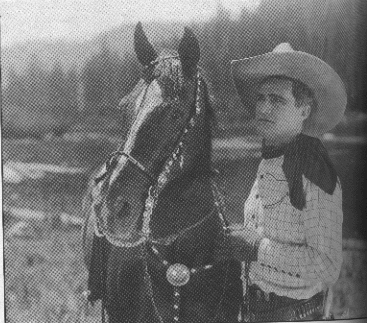 Credits include:

Just Tony (Fox, 1922), The Lone Star Ranger (Fox, 1923), Mile-A-Minute Romeo (Fox, 1923), Eyes of the Forest (Fox, 1923), Soft Boiled (Fox, 1923), Stepping Fast (Fox, 1923), Tumbling River (Fox, 1927), The Circus Ace (Fox, 1927), Hello Cheyenne! (Fox, 1928), Daredevil's Reward (Fox, 1928), Painted Post (Fox, 1928)

Click above to return to  

      Legends Page

An excerpt from "Hollywood Hoofbeats,"

a book currently being written by Jim Moore

about the amazing equine stars of Hollywood.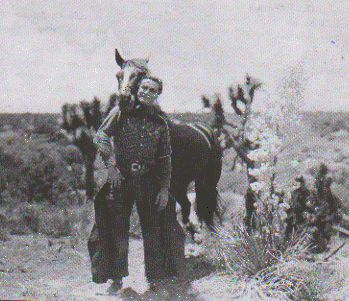 Copyright 2000-2005 Jim T. Moore All Rights Reserved.

No portions of this document may be reproduced, copied or revised without written permission of the author.

Contact: Jim Moore & Associates,  or see Home page.